SubOptic 2016 is the ninth conference to be held under the SubOptic banner since its first event in 1986 and will be "Celebrating 30 years of SubOptic".
It will be held in Dubai between the 18-21st April 2016, hosted by E Marine and its theme will be "Emerging Subsea Networks - the World's expanding treasure" which will cover topics such as the increasing intelligence and complexity of submarine networks, as well as the more traditional areas such as wet plant reliability and finely tuned and optimised cable route engineering, that these increasingly complex networks will require.
The criticality of submarine systems to the global economy is never in doubt, especially given the growth in the subses network and the dilemma faced by the industry in the increasing challenges that developers face in getting the approvals required to land and maintain a new cable, is also likely to be a strong feature.
This is the first time that a SubOptic conference will be held in the Middle-East region and it is timely given the importance of that area to the global optical fibre submarine network.
Download the Conference App!

To celebrate 30 years of SubOptic, we are very pleased to be offering you the designated Mobile App for SubOptic 2016.

Please take time to download the SubOptic App as it provides a very convenient way to find out about all the relevant event information as well as giving you the ability to receive programme updates from the organisers.

Once on the app make sure you login and update your profile, the first time you do this there will be an option to update your profile with a password. If you have already logged in and would like to create a password, simply log out of the app and login again.

Updating your profile will allow you to take advantage of the networking opportunities within the SubOptic app including messaging your fellow delegates which you can access from the home screen or from the menu to the left hand side of the SubOptic app.
· Network with other delegates
· View the full Agenda
· Access the Presentation Library
· All the information you will need for your stay in Dubai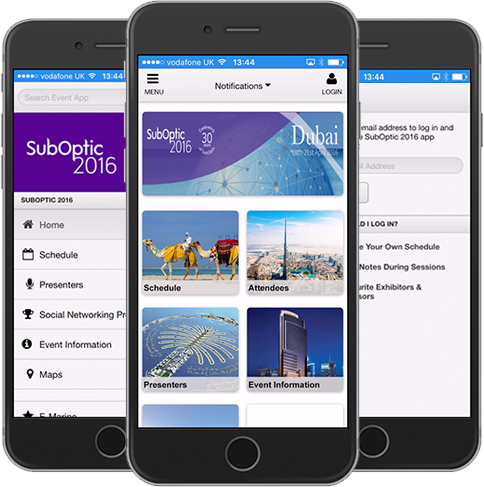 Go to any app store and search for SubOptic16
Google Play

Apple App store

BlackBerry World

Windows Phone Store

If you prefer not to download anything, you can also access the SubOptic App through the web on any device including desktops.

Simply go to www.subopticapp.com
Website registration has closed. Onsite registration will be available on all days of the conference at the Conrad Hotel.