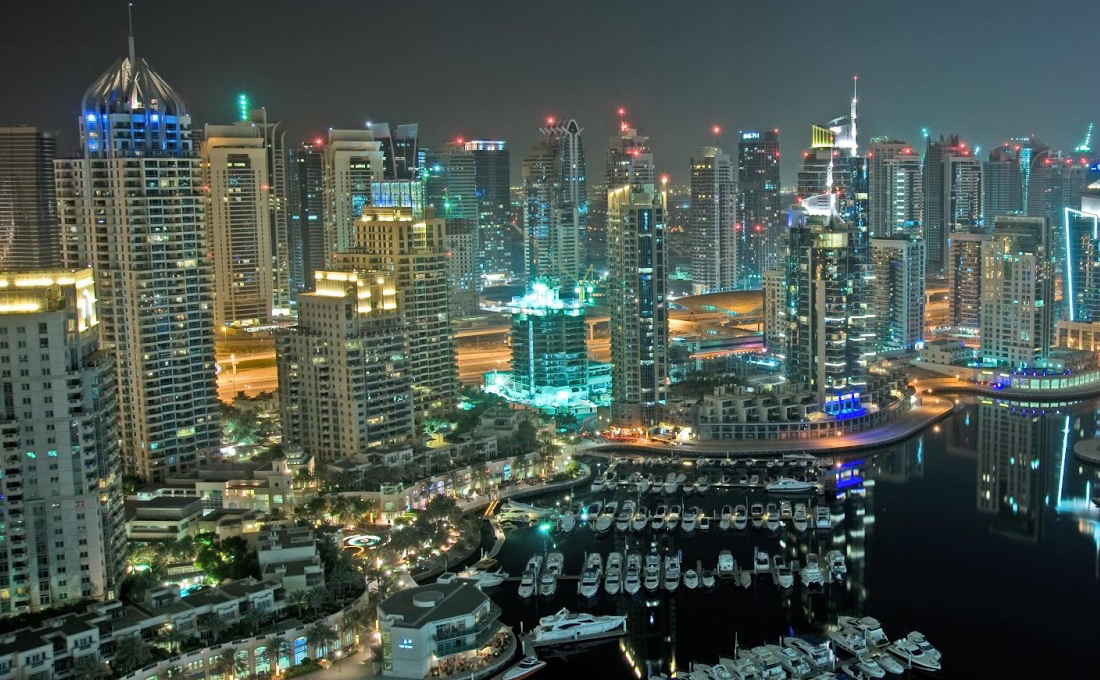 Dubai is a city of contrast and futuristic wonder, a unique destination that delivers out-of-this-world experiences. Look up at the world's tallest building, ski down snowy mountains in the desert, skydive above a manmade island or swim with sharks in a shopping mall. Dubai is where you can marvel at sparkling gold at old-world souks, taste the sea breeze on a traditional dhow cruise and reach the top of the world's tallest building, all in a single day. Simply put, some of the world's supreme cultural, adventure and shopping experiences await, as do great meals, great entertainment and great fun. Discover the city that makes it all possible
For more information on Dubai visit www.visitdubai.com
Climate:
Dubai has a sub tropical arid climate with sunny blue skies most of the year. In April you can expect:
Min C – 20
Max C – 32
Sunshine hours – 10
Rainfall – 9mm
Credit Cards:
Most retail outlets, hotels etc accept internationally recognised credit cards. Cash may be drawn on credit cards in most banks and in some hotels
Currency and exchange:
The local currency is the UAE Dirham which is divided into 100 fils. Notes are available in denominations of AED 1,000, 500, 200, 100, 50, 20, 10 and 5. Coins used are in denominations of AED 1, 50 and 25 fils
The approximate exchange rate is USD1 = AED 3.65
Most international currencies are accepted in banks, hotels, and by licensed money changers in major shopping centres and souks. Exchange houses operate during normal working hours and offer more competitive rates. There is no exchange control and the UAE dirham is fully convertible.
Voltage
220V. Most electical sockets are 3 pin variety and adapters are usually available in hotels.
Dress Code:
The UAE has a reasonably relaxed dress code, but it is an Islamic country and modest clothing is recommended, particularly in rural area and during visits to mosques or places of worship. In shopping malls it is requested that you wear a minimum of short sleeve t-shirts and knee length shorts, skirts.
Important Numbers
Fire 997
Police 999
Ambulance 998/999
Directory Enquiries 181
Airport Enquiries (04) 224 5555
Language
The official language is Arabic although English is widely spoken ad understood through the country. Most hotels and retail outlets employ English speaking staff.
Liquor
A wide choice of wines, beers and spirits is available in hotels and club restaurants and bars. However, restaurants situated outside hotels and clubs are not permitted to serve alcoholic beverages. Liquor may not be consumed by people under the age of 21 years.
Media
A large number of English dailies and magazines are published locally in addition to Arabic language publications. There are several English Television and radio channels. Most hotels receive international news and broadcast via satellite networks.
Medical Services:
Most hotels have in-hose nurses or doctors available on call. Pharmacies are comprehensively stocked and contact details and addresses of those on night duty are available readily. Medical treatment is available at modern and well equipped private and government hospitals
Nightlife:
Very sociable nightlife is Dubai ranging from bars and nightclubs to cafes and great local and intenrnational restaurants. Lots of live bands and DJs. Hotel bars range from sophisticated cocktail lounges to informal British and Irish pubs and clubs.
Photography:
Photography of palaces, government institutions, military installations and oil and gas refineries is prohibited. Always ask before taking pictures of local Emirati people, particularly ladies who may well decline.
Public Transport:
The most convenient form of public transport is metered taxi's which are readily available and very reasonably priced. There is a surcharge on taxis originating at Dubai International Airport.
The Dubai metro now has a fully automated metro network, with convenient stops and feeder buses serving places of interest. Many hotels operate courtesy buses in to the city centre, to beaches or to the closest metro station on a regular basis.
Religion:
Islam is the official religion of the UAE and there are a number of mosques throughout Dubai. However other religions are respected and there are various places of worship including churches and temples in major cities.
Safety:
The United Arab Emirates has one of the lowest crime rates in the world and it is quite safe for visitors to venture out either by taxi, metro, bus or on foot.
Shopping:
Dubai is famous for it shopping. There are plenty of malls and souks to explore depending on what you are looking for:
Malls are generally open Sunday to Wednesday from 10.00 – 22.00 and from Thursday to Saturday 10.00 to 0000 hours
Souks generally open from Saturday to Thursday – 10.00 – 13.00 and 16.00 to 22.00. On Fridays they only open between 16.00 – 2200 hours.
Business:
Most businesses now have a 2 day weekend – Friday and Saturday. But some companies still only have 1 day off which is Friday.
Telecommunications
Most hotels offer WI-FI in guest rooms and lobby's. There are also a number of internet cafes located across the city. Telephone caards are readily available at shops and supermarkets and can be used at most public telephones. Packages are also offered by DU and Etisalat on arrival at the airport.
Time Zone
GMT + 4 hours
Tips
Tax and service charges are usually included in bills but if not a 10% tip is considered adequate. Hotel and aiport porters should be given a tip of USD 2 – USD 2.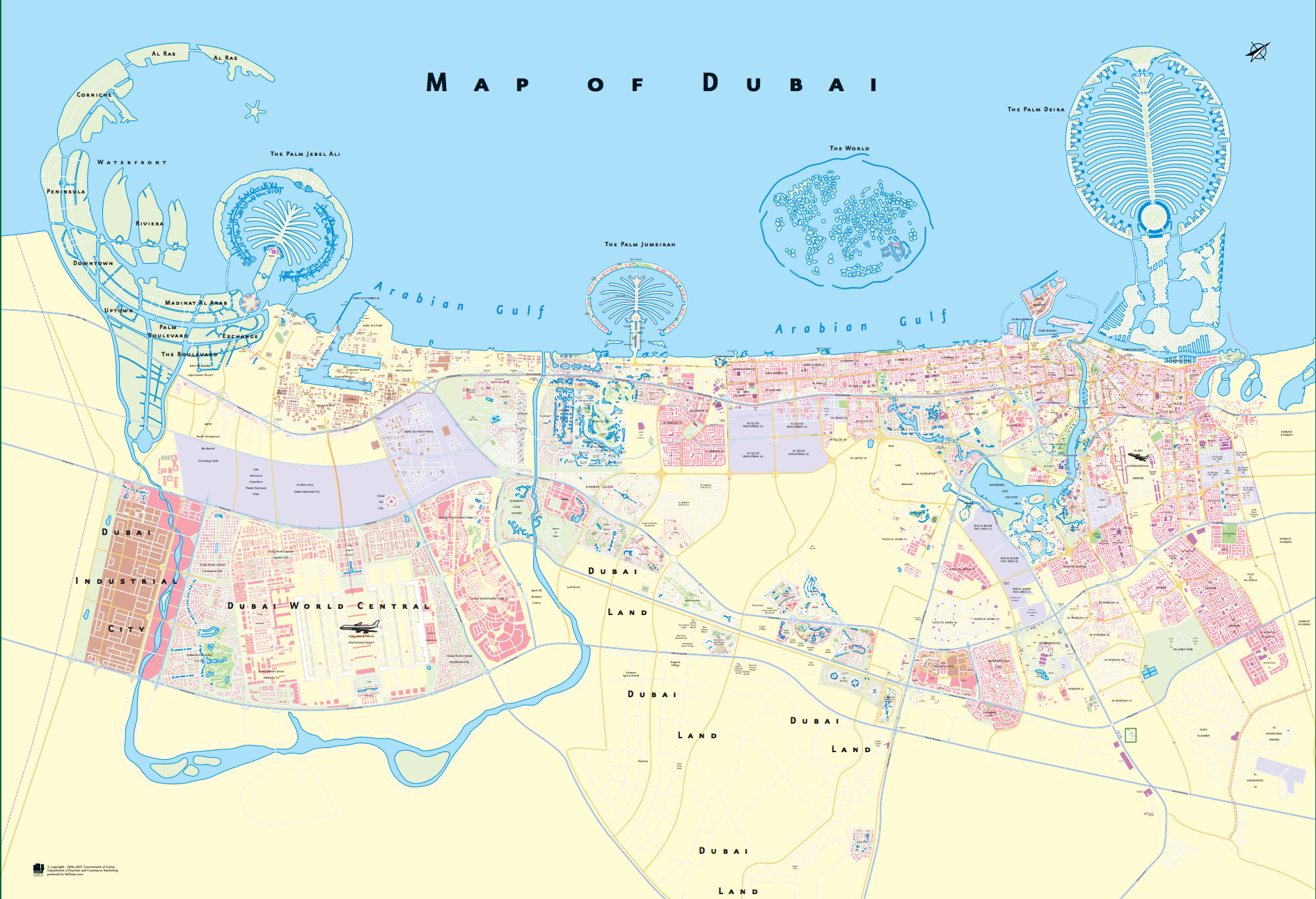 Click to enlarge